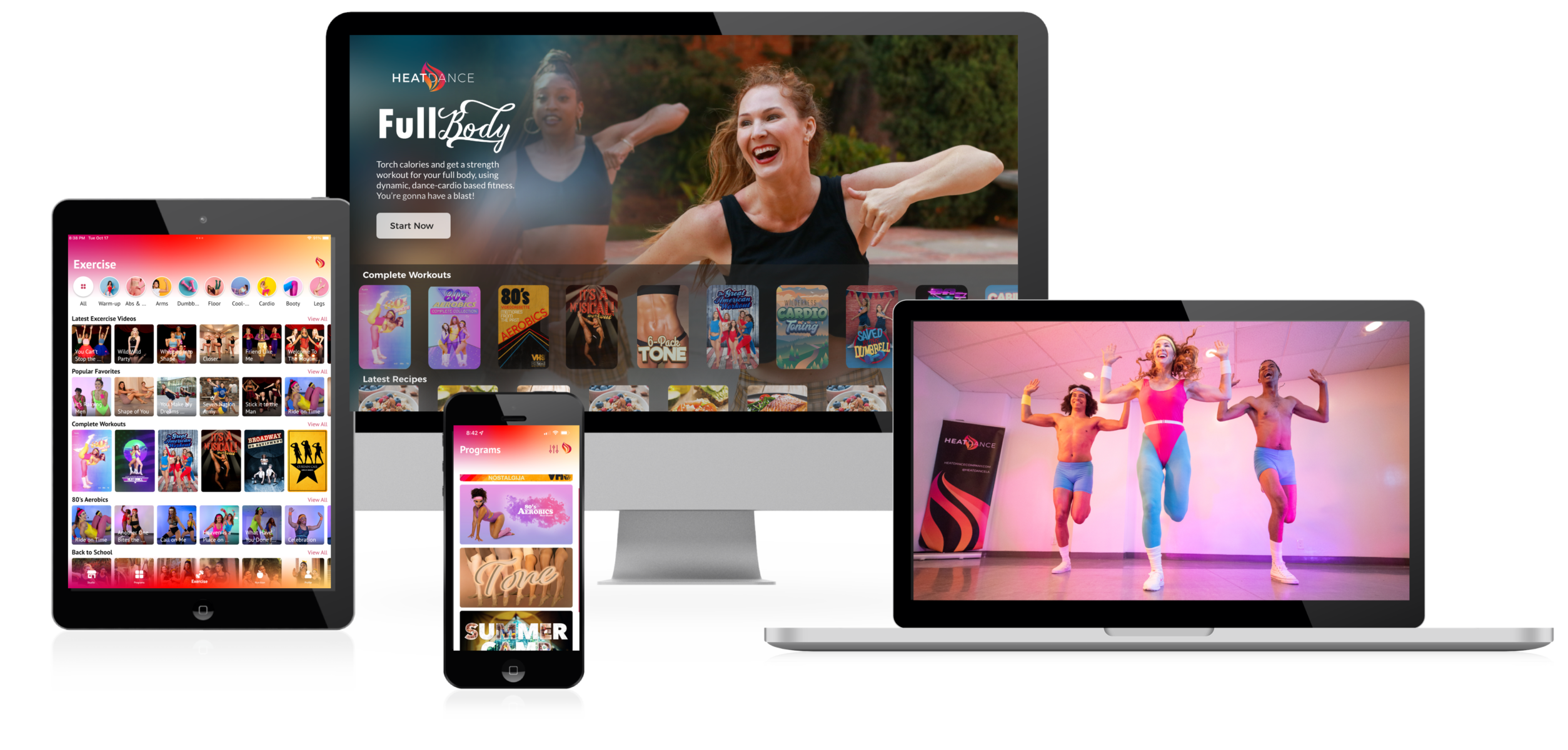 Heat Dance app
Available on All Devices
The HEAT DANCE App is available for iOS, Android, iPad, and desktop.  3-day free trials available for all monthly subscriptions and subscribe to our newsletter and social media for discounts and updates.  We have new themed programs releasing regularly!
CUSTOMIZED
NUTRITION
We understand that especially when it comes to nutrition, one size does not fit all. That's why we are the first of our kind – a dance-fitness app that brings you themed programs and fully customized nutrition plans that are checked by our advanced algorithm, in order to make your health journey as convenient and enjoyable as possible!
80's AEROBICS
YGrab those legwarmers, because we are about to make your 80's Aerobics dreams come true! Step aerobics, mat jazz, and more!.
BACK 2 SCHOOL
Definitely not your kids PE program! Get nostalgic for college with pop music from 2000-2020 & fun hip-hop, cheerleading & jazz dances.
TONE
Celebrate the tone of your skin, tone of your muscles, and the tone of the music in this yoga, ballet, and mat-pilates based program.
SUMMER CAMP
The camp nostalgia is real in this easy-listening dance cardio that you can do anywhere. Get on theme and into the great outdoors with us!
BROADWAY
Celebrate all your favorite hits from the Broadway stage and learn the basics of Musical Theatre dance! Break a leg!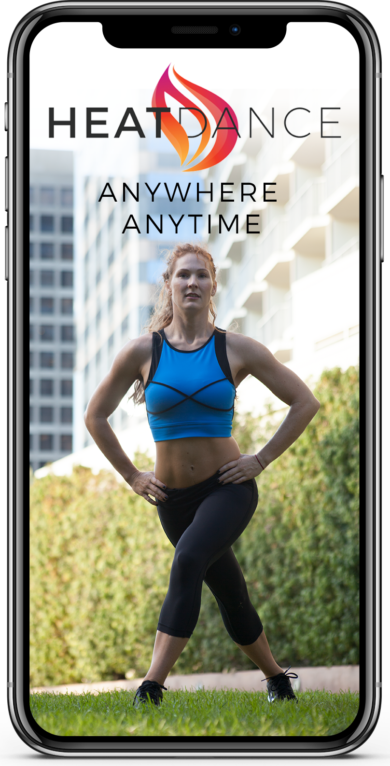 Heat Dance app
The HEAT DANCE app is available on Google & iOS platforms! Customize your meal plan, access lessons and workouts on-demand and more…get ready for all the hottest choreography, lessons, and music right on your mobile device.
START YOUR FREE TRIAL NOW
We get it – there's so many apps to choose from! Start a 3-day FREE TRIAL with us and see how the HEAT DANCE app provides so much more than what you've experienced in the past from your fitness subscriptions. We keep it fun, immersive, and impactful. Come join us and feel the burn!
Brett
Los Angeles, CA
All levels: Beg – Adv
Specialty: Step Aerobics
Lorin
Palmdale, CA
Beg – Int
Specialty: Cheer
Hope
Lankister, PA
All levels: Beg – Adv
Specialty: Musical Theatre
Monique
Chicago, IL
Beg – Int
Specialty: Hip-Hop
Nancy
Miami, FL
Int – Adv
Specialty: Jazz & Hip-Hop
IN-PERSON EVENTS
COMING TO YOU
Want HEAT DANCE in your area? Let us know! We can't wait to bring a little rhythm and warmth to your community. Reach out to us at [email protected] if you'd like a special event or guest class in your area! Stay tuned for exciting announcements.
STAY INFORMED
We don't send weekly emails and we promise not to annoy you.